Buy Home Decor Online | Eco-friendly Shopping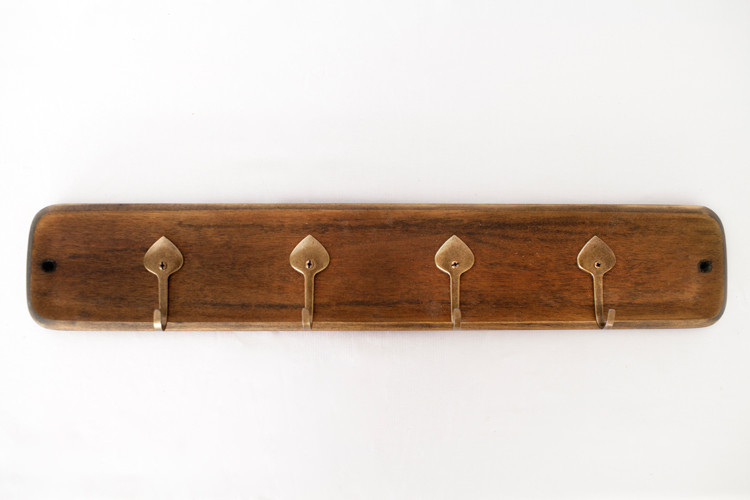 Coat Rack
SKU 00002
Product Details
---
Sublime Coat Rack With Brass Hooks
Our sublime wooden coat rack makes short work of unsightly coats, keys, dog leads, bags and just about anything else that you can hang from a hook!
You can mount the coat rack on the back of a door or on a wall, and instantly convert wasted space into storage space.
Why buy?
The coat rack is made from reclaimed wood and makes for a fantastic first step towards an exquisite eco-friendly home.
The elegant brass hooks are curved and rounded at the ends to avoid digging into your coats.
We have pre-drilled countersunk mounting holes to make the job of putting up the coat rack effortless.
Perfectly sized screws are provided to take the guesswork out of the equation, and the pre-drilled holes are countersunk so that the screws sit flush with the wood.
The Details:
The wood has been darkened with an iron acetate dye we make to give an aged look.
We use shellac to give a smooth finish.
The coat rack length is 50cm, the width 2cm and the height 9cm.
If you want to clean the coat rack, you can wipe it down with a soft dry cloth. We don't recommend using any chemical based cleaners.
Handmade in South Africa.
See more of our eco-friendly home decor and furniture or go back to browsing the shop catalogue.
We are always open to custom orders, so if you can't find what you want you are welcome to contact us.
Save this product for later